By Wendella Davidson
IT was a crowning moment for Guyanese Sheran Harper, on February 26, when she was officially installed as the Mother's Union Worldwide President by Archbishop of Canterbury Justin Welby, at the Southwark Cathedral in London.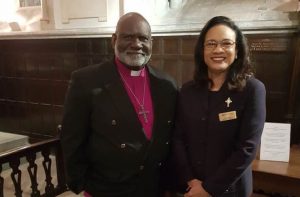 For the next three years, Harper, wife of former national and West Indies cricketer, Roger Harper, who made history by being the first person from outside the British Isles to hold the position, will use the St Mary Sumner's House, London as her headquarters.
She took over the position from Lynne Tembey, whose tenure ended in December 2018.
On hand to witness the memorable occasion which was interspersed with strains of calypso music from the Nostalgia Steel Band were: Bishop of Guyana, Suriname and Cayenne, Charles Davidson; his wife, Mrs Maureen Davidson; Mrs Sheila George, wife of the late Bishop of Guyana, Randolph George; Guyana's High Commissioner to London, Frederick Hamley Case; a representative from the High Commission of Rwanda; the Bishop at Lambeth, Tim Thornton; the Bishop of Southwark, Christopher Chessun and Bishop Anthony Poggo.
In congratulating Mrs. Harper, Archbishop Welby remarked, "Sheran, let me congratulate you for the trust the members have bestowed on you in electing you as their worldwide president," as he also thanked Lynne Tembey for her tenure.
"There is only one Mothers' Union! It is the world's oldest and largest women's movement. It is one of the Anglican communion's greatest gifts to the worldwide church," the Archbishop added.
He spoke too of the "powerful force" that is Mothers' Union to the congregation of more than 600 friends, family and Mothers' Union members, many of whom flew in from around the globe and closer to home for the occasion.
The Archbishop, in referring to the readings from Romans, spoke about the simplicity of the New Testament and how, once called by God, He "takes us by the hand and takes us on the greatest adventure that there is the adventure of Christian discipleship. That adventure has taken Mothers' Union from Mary Sumner in the countryside of England to a worldwide organisation on which people can depend", he noted.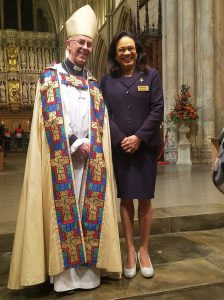 He also alluded to the challenges faced by many members of the Mothers' Union as they undertake their work of supporting the communities in which they live and serve. "In many places you will have to bear the cross of other people's suffering. Whether it's in Burundi, the DRC, Guyana, South Sudan, Nigeria or in towns and cities and slums, whether it is domestic violence, whether it is loneliness, whether it is spiritual emptiness, the Mothers' Union is there bringing hope and a future. So, make yourselves known," he remarked.
In her remarks of acceptance Mrs Harper said "I feel overjoyed and humbled by the outpouring of love and support I have received. I am so very grateful to everyone who travelled from far and wide for this special day in the history of Mothers' Union. Thank you everyone who came and those who were unable to but were lifting me up in their prayers.
"I especially thank Archbishop Justin for his encouraging words. We are indeed a unique and extraordinary gift from God. Mothers' Union is at a very important point in history when our Trustee Board now reflects the truly global nature of the movement. Our recent global conversations, with emerging themes are setting the tone for the future of our work which will be even stronger in meeting the needs of the communities we serve in a life-changing way," she added.
Harper had said in an interview shortly after the appointment was announced last year "I am delighted to accept the role of Worldwide President for the new triennium," Harper said in a report in the Anglican Communion News Service. "I feel very excited and privileged and I extend my heartfelt gratitude to our members who voted to make this dream a reality."
As the new president, Harper will represent and lead the 142 year-old movement of four million members in 84 countries, and which is regarded as the largest women's organisation in the world with membership in Madagascar, Australia, New Zealand, Africa, the West Indies, Canada, England, Wales, Sri Lanka, India, Brazil and Seychelles among others.
Born in the United Kingdom, Harper grew up in Guyana where she studied at the University of the West Indies School of Physical Therapy. She undertook her Clinical Practice at Guy's Hospital in London and then worked with the Ministry of Health in Guyana, where she opened and managed new physiotherapy departments in hospitals throughout the country and lectured on the rehabilitation therapists' programme.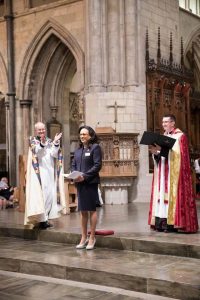 She stopped working in this area 17 years ago, to focus on her calling of serving Mothers' Union. She has served as a volunteer at all levels from parish, diocese and province and is currently a Worldwide Trustee.
The Mothers' Union is an international Christian, British registered charity that seeks to support families worldwide. Its members are not all mothers or even all women, as there are many parents, men, widows, singles and grandparents involved in its work. Its main aim is to support monogamous marriage and family life, especially through times of adversity
It was established through a Royal Charter – an ancient legal structure overseen by the Privy Council. The Privy Council, the highest level of the British Government responsible for matters reserved to the Monarch, approved the new constitution when it met in April this year, chaired by Queen Elizabeth.
Until recently, Harper was the worldwide parenting trainer where she rolled out Mothers' Union parenting programmes in 23 countries across the globe. Her election was announced by MU's Chief Executive, Bev Jullien during a Facebook Live session. "We are extremely excited with the results," Jullien said. "Not only will Sheran bring her global expertise, but we have a Board that is rich in diversity with eight different nationalities and also, for the first time, includes a man."
Source: https://guyanachronicle.com/2019/03/03/guyanese-sheran-harper-installed-as-mu-worldwide-president